The Bride and Groom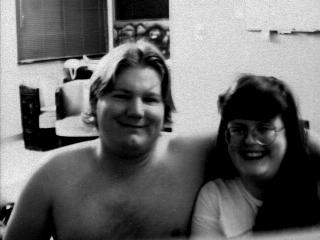 Robert L. Redwine and Kelly C. C. Green
a.k.a. The Happy Couple

Kelly Colleen Catherine Green was born December 26, 1969. She works at the Oregon Public Employees Retirement System in Tigard.

Robert Redwine was born February 9, 1970. He drives a tow truck for 21st Century Towing, and enjoys gaming with his friends.

They met in July 1996. A year later, Bob proposed. Kelly said yes, and the rest of this website tells what's been in the works since that happy moment.

As a token of his love and their engagement, Bob presented Kelly with a size 8 3/4, 1/3 carat round brilliant cut diamond in a 14k gold tiffany setting. She loves it. Its "sparkly."

On her wedding day, Kelly will be wearing a beautiful bridal gown that Bob has not seen yet. But, for the benefit of everyone else, you can find a description of it and some lovely pictures here. There are no other links to this page, because we wouldn't want the groom stumbling on it by accident, now would we?

The groom's ensemble, however, we can tell you about now. Bob's wearing a basic black tux. Notch collar, single breasted jacket; ivory dress shirt; burgundy pocket square, bow tie & cumberbund; gold shirtstuds & cuff links; black dress shoes; dark red rosebud boutineer...and a 8mm comfort fit satin finish gold wedding band engraved with the wedding date & the word "Mine!"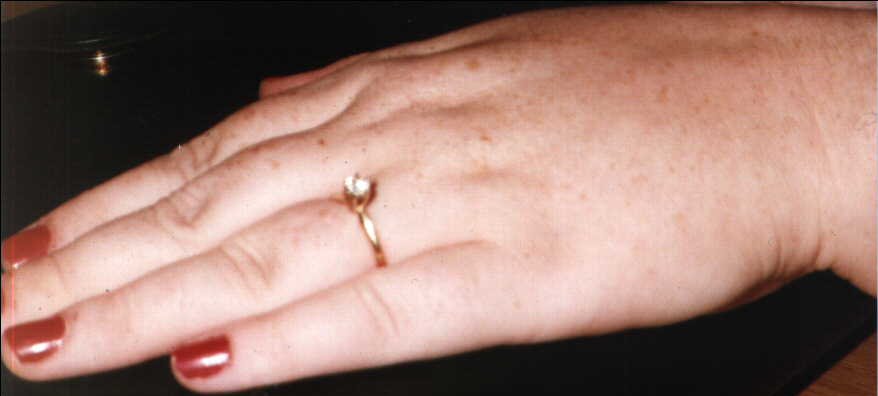 "With this ring, I thee wed..."
The Engagement Ring