The Attendants,
a.k.a. the BestMaids and the GroomSquad

BestMaid Beth Mitchell, friend of the Bride
will wear this dress, in Hunter Green

Beth Mitchell is a long time friend (we're talking 18 years...) of Kelly's. She works in the Lake Oswego Public School System, and lives in a hip apartment in the Selwood District of Portland. Beth and fellow BestMaid Wendy used to seranade Kelly with a charming rendition of "Matchmaker" from "Fiddler on the Roof" at 4-H camp.

Heather Renk was Kelly's boss at Mainstreet Dance Studio in Hillsboro, and remains a good friend. She choreographed the half-time show for the Orange Bowl this past year. There's no picture for her dress here for one simple, joyous reason: she's not sure what dress size she'll need. BestMaid, Heather, had her baby the morning of April 15!!!! It's a girl (not a surprise), 8 pounds even, 20 3/4 inches long. A name hasn't been publicly announced yet. And, most important - Mother & Baby are happy and HEALTHY! Craig, the new daddy, is just about ready to burst, he's so proud. So, the youngest wedding guest will be exactly 1 month & 1 day old!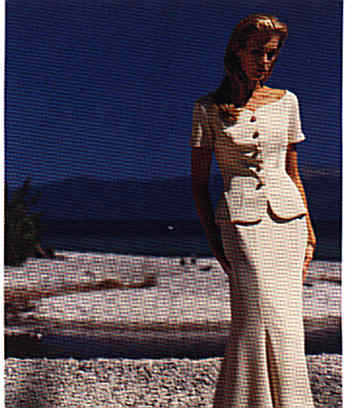 BestMaid and Pixel Princess Wendy Green,
sister of the Bride, will wear this dress
by Watters and Watters, in Hunter Green

Wendy Green is the younger sister of the bride. Her birthday is March 10! She lives and works in Washington, DC, as a Computer Specialist at SCIENCE. Wendy is also the web mistress/pixel princess for this site, and you can check out her homepage here, if you haven't already.
BestMaid and Pixel Princess Wendy Green
The GroomSquad
Shane Fisher....comonly known as fish, is Bob's Best Man. He served with Bob and fellow GroomSquader Patrick in the Marines.
Patrick Best is one of Bob's groomsmen, and is also a friend from his Marines days. Patrick is engaged to be married.
Eric Deuel went to Marshall High School with Bob, and has been gaming with Bob for over a decade now. He and his wife, Terri, have two children: Dustin, 5, and Erin, 2.
The gents will be wearing ivory dress shirts; black dress pants; high cut, full back vests in a burgundy print w/black & gold accents & matching bow ties; gold shirtstuds & cufflinks; black dress shoes; and cream rosebud boutineers.